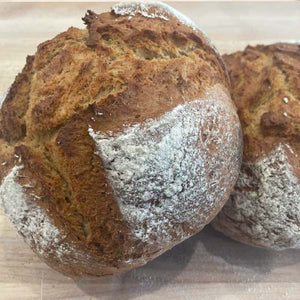 This traditional Irish quick bread has a soft crust outside with a hearty, nutty flavor inside. Smeared with Irish butter and perfection has been achieved. 
Love this product? Sign up for weekly subscription! Don't worry about remembering to place an order, just pick up your treats every week. Click here to learn more.
About This Product:
Ingredients: unbleached all purpose flour, whole wheat flour, buttermilk, molasses, sugar, butter, baking powder, baking soda, salt.
Excellent!
Run, don't walk to get your Red Branch Bakery items! Just got my order and the chocolate chips were still melted and warm and the bread was fresh and warm! So good!
Like the Irish brown bread, but prefer the sourdough.
It's a hit!
The brown bread was the talk of our yearly St. Pat's day dinner. Everyone loved it.
Red Branch
I've enjoyed your sourdough bread for awhile now, as has my grandson. But it's a bit too sour for my wife, she really is enjoying the Irish Brown Bread. We all are! Thanks Bob
AMAZING
best bread ever thank you!