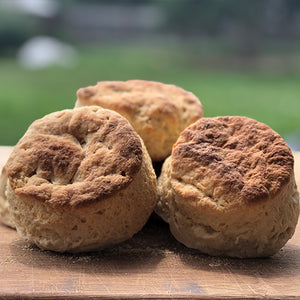 A true classic, made the way it should be...crumbly, melt-in-your-mouth deliciousness! 
Sold by the half dozen.

Storage Tips:
About This Product:
Ingredients: unbleached all purpose flour, buttermilk, butter, honey, baking powder, salt.
massive in size and flavor
normally over-sized food isn't as flavorful as the regular size.
these biscuits are the exception. huge size and great flavor.
More? Yes, please!
While this batch was a little more done and a little less risen than the last batch, they were still mighty tasty. They have a yummy flavor and are a generous size. Will buy again.