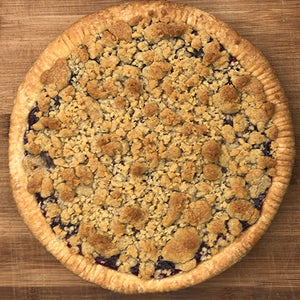 The other American classic. We put a twist on the New England favorite by adding our signature crumb topping. 
About This Product:

Pie Ingredients: Blueberries, sugar, cinnamon, lemon juice.
Crumb Ingredients: Butter, brown sugar, white sugar, vanilla, salt.
Crust Ingredients: Butter, flour, sugar, baking soda, salt, water.
BB Pie
Best of all the pies at Thanksgiving - thank you!
blueberry pie
one of my family members said it was the second best blueberry pie, being my mother has the best, he has ever tasted.
Hometown bakery
Everything we have had is amazing we always look forward to our holiday treats
to die for
best blueberry crump pie I have ever had the crumbs and the crust are unreal
love this pie like everything else at Red Branch simply the best