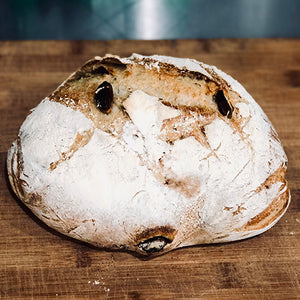 Our classic sourdough loaf infused with garlic roasted in olive oil with a hint of rosemary.
Storage Tips:
Long fermented sourdough is intended to be eaten within a few days.
To keep fresh longer, try slicing and freezing in a zip lock bag. Then simply toast and enjoy!
For a crunchy crust, store in paper or cut loaf in half and store face-down on the cutting board. This will keep the crust crusty and the inside crumb soft.
For a softer crust, store in plastic.
About This Product:
The product is dairy-free
Ingredients: unbleached all purpose flour; whole wheat flour; water; natural yeast starter (all purpose flour, whole wheat flour, water); garlic, rosemary, olive oil, salt.
Garlic Rosemary Oval Loaf
Garlic Rosemary bliss
This has become our new obsession -- packed with so much garlic
Garlic & Rosemary Loaf
Outstanding flavors & texture!
Garlic& Rosemary
Delicious,friendly service...went extra and beyond for a personal order idea. Thank you!!! 🌞🌞🌞 I will tell friends....