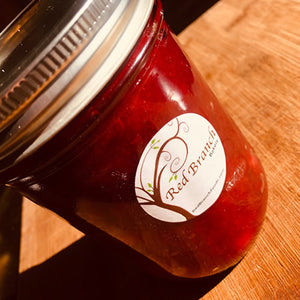 We use the freshest fruit available to make our home-made, whole fruit jam. Flavor is determined based on availability of seasonal ingredients; examples include: raspberry, strawberry, blueberry, blackberry and peach.

About This Product:

Ingredients: fruit, sugar, butter, lemon juice
Gorgeous!
I ordered several loaves of bread and jam as gifts for my neighbors. It all looks delicious! I am tickled to have a bakery such as the Red Branch so close to my home and will happily order from them again. And I applaud the young couple who own it - they obviously work hard and deserve to succeed. Best wishes to them.
Ranier Cherry Jam
Delicious! and so creative, I've not had Ranier cherries in jam before! :-)
Irish Brown Bread
I bought strawberry jam also, but haven't opened it yet. The Irish brown bread however was still a little warm when we bought it home, so we had to sample. Ohhh, so good with that bit of sweetness as advertised. Great with sweet butter or red fruit jam, which was opened. What a treat!
Delicious as always.
Been Sharing goodies with family.
Grandparents loved the pretzels too! ;)
And all the tarts n sea salt cookies.
Now we all love the Mama Hoods Walnut Pie
And the best ever raspberry jam.