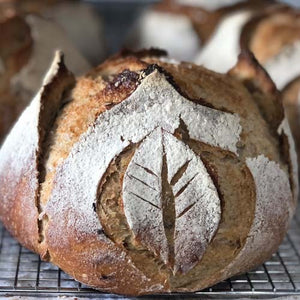 About Subscriptions:
Pickup:  Wednesdays at Mrs. Torrelli's Wine Flat |  3:30-6:30pm
Save: 10% on all subscription packages! 

(Posted price includes discount)

Subscription Length Options: Pickup your subscription

 

each week for 4, 8 or 12 weeks.
After your subscription is placed:

 

you'll receive an email verifying your pickup dates.
.
About This Product:
Ingredients: unbleached all purpose flour; whole wheat flour; water; natural yeast starter (all purpose flour, whole wheat flour, water); salt.
Love the subscription option!
With the subscription option I can choose a steady rate of loaves we buy. I can set the # of weekly loaves and the # of weeks I want the subscription for. That way I don't have to think about a weekly order! I think this will work out great!
Delicious!
Delicious! I am looking forward to my next order.
The best-tasting sourdough in the area
I am so glad to have Red Branch nearby for all my fresh bread needs. They produce the best sourdough in Loveland by far, and I love the subscription option so that I am never wanting for fresh bread in the house.
Excellent loaf, very delicious
This was my first loaf from Red Branch Bakery and I thoroughly enjoyed it. The crust is perfect and the texture of the bread is just right. It has the very pleasing aftertaste finish of a good sourdough bread. Highly recommended. Happy I started a weekly subscription.
It's great with anything!
Rustic Sourdough Loaf is our favorite. Just the right blend of whole wheat and all purpose flours make this bread a "go-to" for anything we desire. Great as toast with jellies or jams, cheese, sandwiches or just as a snack. It has body and that great sourdough taste. One of life's simple pleasures. Thanks Red Branch.